Summer Latvian Language Courses
Learn Latvian language, expand your network, invest in personal growth, and immerse yourself in diverse cultural activities.
Baltic Media Language Training Center offers an opportunity to explore the Latvian language through intensive week-long summer courses, suitable for both beginners and those who have some prior knowledge of Latvian. The Latvian language courses will be held for five days, with four academic hours per day.
During the 20 academic hour course, you will:
- Learn essential words and phrases to initiate basic conversations;
- Master the fundamentals of Latvian grammar to construct simple and concise sentences for communication;
- Discover the cultural aspects of the Latvian language;
- This 20 academic hour course will provide you with a solid foundation to continue your Latvian language learning journey and help you navigate everyday communication situations.
For more information, please e-mail us at courses@balticmedia.com

+371 67 224 395

+371 29 44 68 45
Place:
Language courses will be held in the very center of Riga in the Art Nouveau Quarter, where our office is located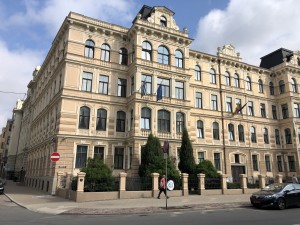 Accommodation and meals (except Latvian cuisine tasting) are not included in the rate. Please book your hotel, hostel or guest house yourself. Riga has a wide choice of accommodation for all budgets.