Discover and Learn Latvian (A1/1) | Latvian Language Courses in Riga
48 academic hours
BALTIC MEDIA Language Training Center teaching team has developed an effective approach for learning Latvian. The course Discover Latvian (A1/1) consists of 10 chapters. Each chapter has 3 key stages:
EVERYDAY SITUATIONS
Series of episodes immerse you in everyday situations in Latvian. Each episode covers one spesific topic: I am in Latvia; Latvians like dills; The charm of Riga; etc.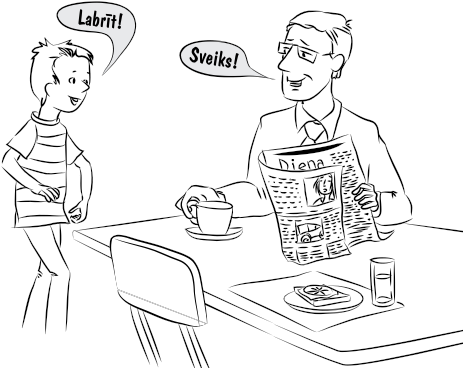 Listening and watching realistic situations in Latvian is an effective way to discover new vocabulary and frequently used phrases, and quickly learn to pronounce them correctly. The videos used in our course depict native speakers.
EXERCISES AND DRILLS
Activities and exercises help to:
Improve your reading and comprehension skills;
Develop your spelling and writing abillities;
Learn how to speak Latvian;
Reinforce Latvian grammar comprehension.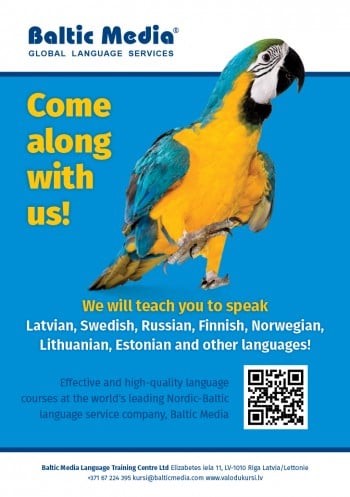 Ieraksti patīk/nepatīk vai garšo/negaršo! Choose the correct form of like.
1. Man šokolāde.
2. Annai piens.
3. Vai tev lasīt grāmatas?
4. Manai draudzenei kafija, bet __________ lielas krūzes.
5. Pēterim dziedāt dušā.
6. Līgai Jānis.
7. Jānim Līga.
Answer key and grammar charts are provided.
END OF CHAPTER TEST
Each chapter offers a summary test that allows you to check your progress .
A Latvian language proficiency test, determining your level on the official European scale (Common European Framework of Reference for Languages) is also available at the end of the course, because measuring your progress motivates you.
Pastāsti, ar ko viņi brauc! Describe the transportation they are using (10 points).

Total: 100 points
These three key stages are the foundation of a unique approach for learning Latvian created by BALTIC MEDIA Language Training Center professionals. We are sure it will help you to learn Latvian in an easy and productive way. Good luck.
To apply for the course ☏ +371 67 22 43 95 ✉ courses@balticmedia.com
Latvian language courses for foreigners in Riga
Evaluate your Latvian language skills here