What customers say about language courses at Baltic Media®
Positive Customer Feedback – Average 4.9 out of 5 Stars
The main value pillar of Baltic Media® Ltd Language Training Centre is offering competitive prices for quality language teaching services and friendly, reliable customer service. Therefore, it is highly important for us to know what customers say about our language courses. We are glad to report that in 2020 the vast majority of our customers highly appraised Latvian, English, Russian, German, Japanese and many other language courses provided by our Language Training Centre (total assessment – 4.8 out of 5 points).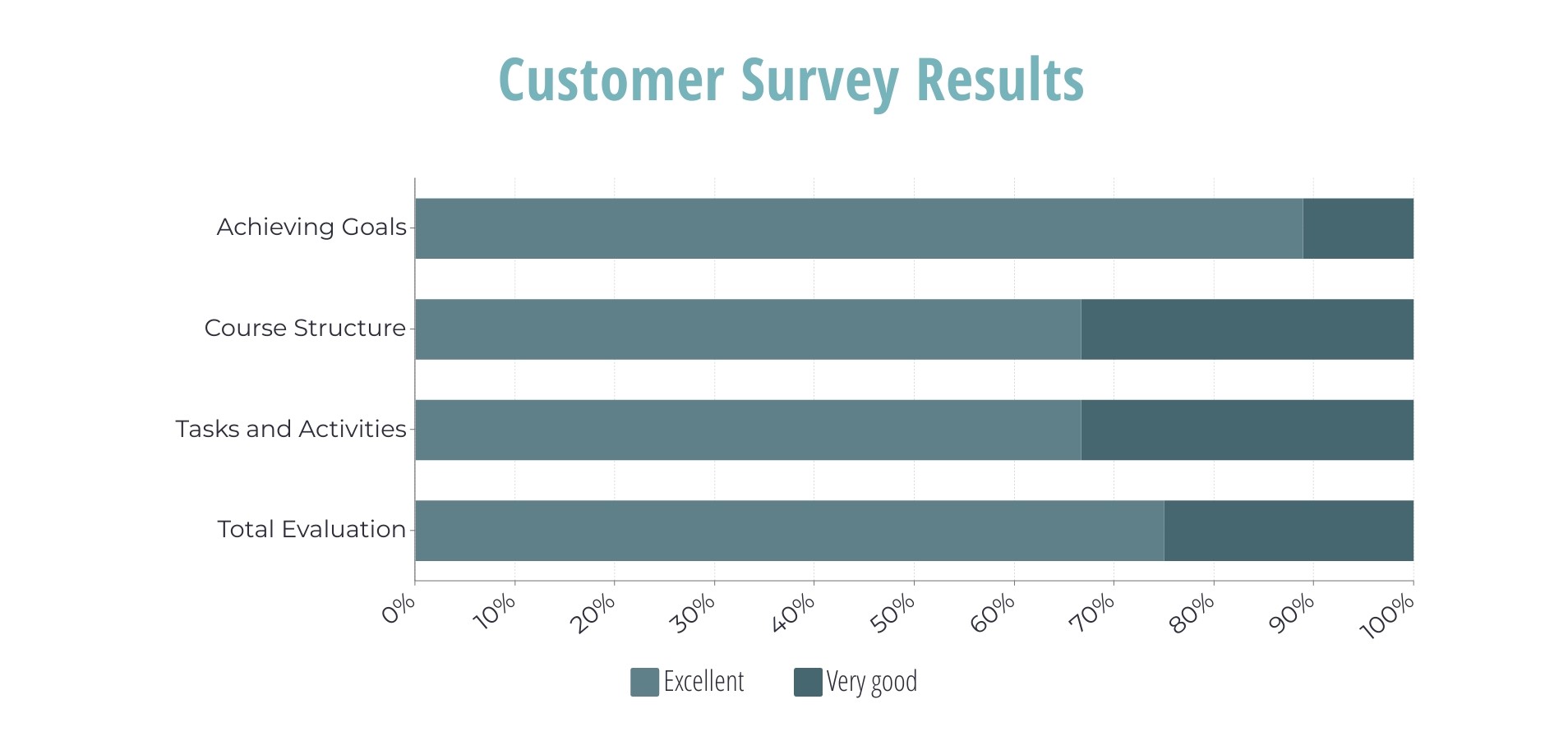 Based on comments and remarks included in the Language Training Centre's annual customer survey, clients who have chosen to study languages with Baltic Media® Ltd primarily appreciate that studies are organized in small groups to promote faster learning, shared resources, synergy, and exposure to diversity. Moreover, our language students praise the flexibility of our project managers and tutors who ensure that courses are organized at a time that is the most suitable for each client. Although language courses have been taking place solely online since the beginning of 2020, there are many reasons why learning online can prove to be more efficient than on site, for instance, online learning requires less time and money, it keeps learners more engaged and is environmentally friendly.
TMB Elements
I talked to our Director, and he was really satisfied with the first lesson! Thank you!
When searching information about language training companies, some six companies were found. I sent an e-mail to all of them, two companies did not reply at all. Your reply was the first out of four other companies. I compared the prices, and they were approximately the same. The decisive moment was your attitude towards a potential customer (fast reply, complete information, etc.).
Thank you for the cooperation offered!
---
Tele 2 BIlling
Taking into consideration the positive experience we have had until now, we believe that our cooperation with Baltic Media Ltd will continue for a long time.
---
---
Baltkom TV
During several months of successful cooperation with Baltic Media Ltd the company proved itself as a company providing high quality work.
---
Mediju nams
Mediju nams Ltd has been cooperating with Baltic Media Ltd in the area of English language training since September 2008.
---
Halcrow Baltica
Our company is completely satisfied with the quality of services provided, and we are going to cooperate with Baltic Media Ltd in the future, too.
---
Laiko Ltd. Saga Group
Despite our advanced training requirements in relation to implementation of the project, the company was very flexible and open, and we believe, it fulfilled the task very well.
---
YORK International
Professionalism and responsiveness of the staff of Baltic Media Ltd also gives us satisfaction for the previous cooperation, thus our company is going to cooperate with Baltic Media Ltd in the future, as well.
Multimedia Consulting Investments Europa OÜ, Estonia:
Thank you very much. Great job and kindest assistance from your side.
We Will revert again to you by your services in the future and will advise your best company to our colleagues. Have a nice sunny day.
Kind regards, Anna Halina, Office manager
---

We are satisfied with the communication from your side. Thank you for good work.
Agata Rybacka
Aploq Translations
Czysta 2/6o, Wrocław Poland
---

Lindex AB has chosen Baltic Media Ltd as our language service provider because of their flexibility, professionalism and th wide network of vendors.
Göran Bille
Lindex AB, VD
---
Ministry of Justice of Republic of Lavia
I would like to say a big THANK YOU to all who helped to organize and participated in the training session for the delegation from Belarus.
The Belarus delegation were extremely satisfied with everything they saw and heard and the warm welcome.
It was my pleasure to cooperate!
Ilze Grava
Senior Officer
Department of European Affairs Coordination
---

Baltic Media Ltd. provides interesting and high quality English language training programme to our company employees, providing services according to our requested schedule. Our company is completely satisfied with the quality and presentation manner of the services provided to us, and we will continue further cooperation with Baltic Media Ltd.
Viktors Brenners
Chairman of the Board
Halcrow Baltica Ltd.
---
Baltic Media is a client-oriented company, which is a vital aspect of the client service industry, but even today rarely encountered in Latvia's business environment.
Liene Zarina
Office Manager of the construction company Nams, JSC UPB
---

Efficient and timely execution of any agreements made, as well as a good reputation.
Elina Egle
Public Relations Manager of JSC Aldaris